Fountains

Mary Louise Gallaway is a Texas-born artist who has lived and worked in France since 1971. She has realized numerous public and private commissions in bronze, clay, brass, glass and other materials. Her sculptural work centers around the construction of column-like forms. These forms, associated with water, make for varied and interesting waterscapes.



LARGE FOUNTAINS

Column and Branch Fountain

These columns vary in height from 3' to 6', in width from 4" to 24", and are assembled in groups of three, four or more elements. The columns are made of strata and can have vegetation in the form of branches which give the impression of square cut core samples.

This group of columns, 32" high and 4" wide, is an example of a fountain in bronze, on a base, with a recycling water installation.

Column & Branch Fountain




The water system is programable, and can be personalized to include, for instance, a 30 second mist diffusion, followed by 30 seconds of silence, then one minute of vertical spray, followed by four minutes of silence. Options such as varying spray patterns and lighting can be incorporated into the installation.

Prices will vary according to local code, location, number of columns and options selected. An example of cost for the group pictured above with a traditional water pattern is US $17,000.



Large Stratified Fountain

The columns below vary from 4' to 9' high and 5" to 22" wide, and can be assembled in varying numbers of elements. The layers become less and less dense toward the top of the forms. As in the Column and Branch Fountain, this group can be installed on a base of variable height. Cost of the fountain will depend on the number of elements desired, local code, and options—such as lighting—selected. An example of cost for the group pictured below with a traditional water pattern is US $54,000.

Large Stratified Fountain

Close-up of the sculpture at left

The above sculptures can be seen at Gremillion & Co. Fine Art, Inc. gallery in Houston, Texas.



STONEWARE FOUNTAINS

The geometrically-shaped fountains shown below are made of unglazed stoneware fired to 1280°C. The bases they are set upon, as well as their reservoirs, are glazed with an iron-based glaze called 'oil spot temmoku' developed by Jean-Luc Degonde. This glaze was first seen in the T'ang Dynasty period (AD 618-907) in China.
The fountains are intended for private or public use, indoors or out. The electric aquarium-style water pumps can be replaced by an system installed by a plumber for a more permanent installation.
The size of these fountains can vary. Made of stoneware (non-porous clay), they can be up to 2 feet wide, the maximum for the kiln dimensions. The same designs can be enlarged and made of bronze or fiberglass for display on roundabouts, public squares or building entrances.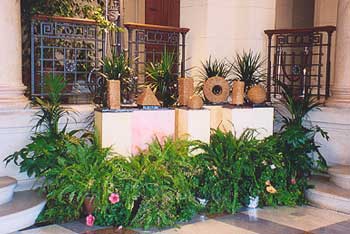 Seven fountains exhibited in the entranceway of the
Suresnes City Hall, France 2001.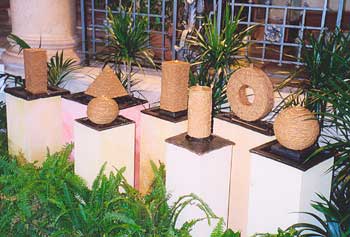 Close up view of the fountains.
Click on the video icon for a film of the fountains with water playing.


The artist adjusting the water flow
on a fountain.

The pumps can be adjusted to vary the water output and the height of the water spout on the tops of the fountains.
The fountains can be set into wooden bases to form tall columns. They can also be lifted out of the bases and placed on a table or shelf.

The cylinder in the forefront of the photo at right is 10" high and 4.7" in diameter. Its base is 11.5" square.

Cylindrical fountain showing high rate of
water flow

| | | |
| --- | --- | --- |
| Parallelepiped fountain | | The parallelepiped column at left is 12.2" high. The surface of the fountains are formed of wave-shaped strata which orient the water flow over the clay. |
The pyramid in the photo at right is 10" high; the diameter of the sphere behind it is 9.5".

Pyramid fountain with large sphere
fountain in background
| | | |
| --- | --- | --- |
| Disk fountain | | The disc-shaped fountain at left is 12.5" high and 4" thick. Its clay base is 17.7" long by 6.7" wide. |
The rectangular-shaped fountain in the photo at right is 11" high. Wooden support columns can be ordered for an additional fee. Shipping costs vary depending on destination; please enquire.

The small sphere in the photo below is 7" in diameter.

Spherical fountain

Parallelepiped fountain on wooden support column
The price of a Geometry Fountain in the sizes shown above is $500 plus shipping cost. To place an order, click here.



Small Stoneware Fountains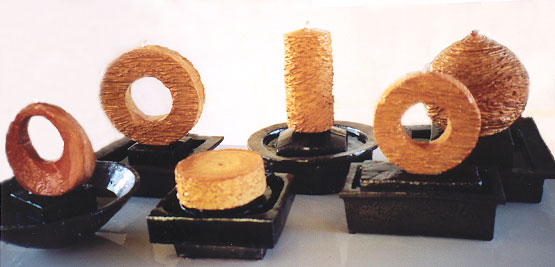 A display of small table-top stoneware fountains.
The photo above shows a variety of small foutains suitable for a home or office environment. They are approximately 10" high, and can be placed on a table or shelf.
The price of each fountain is $350 plus shipping cost.



Home | CV | Portfolio | Paintings | Fountains | Jewelry | Order
Website contents, text and designs © 2000 - 2012, Mary Louise Gallaway, mlgcreations at free dot fr
Website design and maintenance by Sheri Moreau, akindofmagick at gmail dot com
World rights reserved.